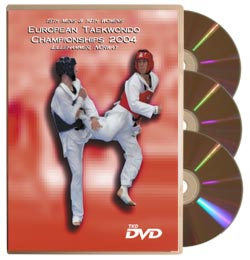 TKDDVD: The 2004 European Taekwondo Championships
(Click on image for link to product page)
Rating: *****
Runtime: 100 minutes Approx each disk
Features: Interactive menus and Interactive Chapter Points
Format: Multi-Region NTSC (viewable on PAL)
COST: £40.00 (website allows you to change curenncy to either Euro or US Dollars)
VOL 1: Male & Female Fin & Fly Weight Divisions
VOL 2: Male & Female Bantam & Feather Weight Divisions
VOL 3: Male & Female Light & Welter Weight Divisions
VOL 4: Male & Female Middle & Heavy Weight Divisions
SET: Consist of all 4 disks
Total Running Time: 435 min
Description of volumes:
Volume 1

Female Fin
Semi Finals
Adamadia Psallida
GRE
Sara Abdel Wahib
ITA
Kadriye Selimoglu
TUR
Brigida Yague
ESP
Final
Brigida Yague
ESP
Adamadia Psallida
GRE
Male Fin
Prelims
Paul Green
GBR
Loi Van Le
DEN
Yahiam Sharhabi
ISR
Seyfula Magomedov
RUS
Semi Finals
Kadir Dolas
TUR
Paul Green
GBR
Pedro Povoa
POR
Seyfula Magomedov
RUS
Final
Seyfula Magomedov
RUS
Paul Green
GBR
Female Fly
Semi Finals
Jenifer Delgado
ESP
Charlene Mongelard
GBR
Hanna Zajc
SWE
Nevena Lukic
AUT
Final
Jenifer Delgaodo
ESP
Nevena Lukic
AUT
Male Fly
Prelims
Aggelos Panayiotou
CYP
Elnur Amanov
AZE
Kivanc Dincsalman
TUR
Juan Antonio Ramos
ESP
Semi Finals
Ludovic Vo
FRA
Elnur Amanov
AZE
Juan Antonio Ramos
ESP
Rakesh Debipersad
NED
Final
Juan Antonio Ramos
ESP
Elmur Amanov
AZE

Volume 2

Female Bantam
Semi Finals
Zeynep Murat
TUR
Carine Zelmanovitch
FRA
Sandra Nitsche
GER
Margarita Mkrtchyan
RUS
Final
Zeynep Murat
TUR
Sandra Nitsche
GER
Male Bantam
Prelims
Omar Badia
ESP
Alexei Babko
RUS
Maciej Ruta
POL
Maxim Boitsov
UKR
Semi Finals
Omar Badia
ESP
Umit Kose
TUR
Aziz Bartal
FRA
Maxim Boitsov
UKR
Final
Omar Badia
ESP
Maxim Boitsov
UKR
Female Feather
Semi Finals
Gwladys Epangue
FRA
Cristiana Corsi
ITA
Hamide Bikcin Tosun
TUR
Ludmila Zheronkina
BLR
Final
Gwladys Epangue
FRA
Hamide Bikcin Tosun
TUR
Male Feather
Prelims
Niyamaddin Pashayev
AZE
Nikolaos Kararelis
GRE
Tom Hovav
ISR
Matija Santic
CRO
Semi Finals
Erdal Aylanc
GER
Niyamaddin Pashayev
AZE
Raphael Decius
FRA
Matija Santic
CRO
Final
Niyamaddin Pashayev
AZE
Matija Santic
CRO

Volume 3

Female Light
Semi Final
Joyce Van Baaren
NED
Muriel Bujalance
ESP
Miet Filipovic
CRO
Esther Scholten
GER
Final
Muriel Bujalance
ESP
Miet Filipovic
CRO
Male Light
Prelims
Ertan Bastug
TUR
Alejamdro Monfrino
ESP
Carlo Molfetta
ITA
Joni Viitanen
SWE
Semi Finals
Carlo Molfetta
ITA
Joni Viitanen
SWE
Tommy Mollet
NED
Ertan Bastug
TUR
Final
Carlo Molfetta
ITA
Ertan Bastug
TUR
Female Welter
Semi Finals
Ekaterina Arutyunian
RUS
Ivone Lallana
FRA
Sararitoula Pagonaki
GRE
Sibel Güler
TUR
Final
Ivone Lallana
ESP
Sibel Güler
TUR
Male Welter
Prelims
Pacifico Laezza
ITA
Christophe Negrel
FRA
Craig Brown
GBR
Rosendo Alonso
ESP
Semi Finals
Rashad Ahmadov
AZE
Christophe Negrel
FRA
Rosendo Alonso
ESP
Thijs Oude Luttikhuis
NED
Final
Christophe Negrel
FRA
Rosendo Alonso
ESP

Volume 4

Female Middle
Semi Finals
Ekaterina Nazarova
RUS
Alesia Cherniavskaya
BLR
Aitziber Los Arcos
ESP
Laurence Rase
BEL
Final
Alesia Cherniavskaya
BLR
Aitziber Los Arcos
ESP
Male Middle
Prelims
Patrick Stevens
NED
Jon Garcia
ESP
Mauro Sarniento
ITA
Bruno Ntep
FRA
Semi Finals
Tavakkul Bayramov
AZE
Patrick Stevens
NED
Bahri Tanrikulu
TUR
Bruno Ntep
FRA
Final
Patrick Stevens
NED
Bruno Ntep
FRA
Female Heavy
Semi Finals
Kiriaki Kouvari
GRE
Natasa Vezmar
CRO
Sarah Stevenson
GBR
Yvonne Oude Luttikhuis
NED
Final
Natasa Vezmar
CRO
Sarah Stevenson
GBR
Male Heavy
Prelims
Leonardo Basile
ITA
Rubins Montesinos
ESP
Pascal Gentil
FRA
Stergios Roidis
GRE
Semi Finals
Mici Kuzmanovic
CRO
Rubins Montesinos
ESP
Ken Holter
NOR
Pascal Gentil
FRA
Final
Rubins Montesinos
ESP
Pascal Gentil
FRA
By far the best DVD produced by TKDDVD so far. The visually attractive front cover presentation sets the scene for what has to be the ultimate TKD media experience to date. The layout of each DVD is perfect, with the title screen allowing you to choose which ever weight you desire to watch and the DVD shifts from round to round of each match by using the skip button on your DVD player. The footage for each DVD has been carefully selected to give you the best matches from the European Championships and the action is seen from all differeing angles with a score bar so you can keep up the score. Another excellent function is the Competition Referee's list which allows you to see which referee's were there and from where. Here at Taekwondo Players we would strongly advise anyone to buy this DVD, whether you use it for match analysis or just for the pure pleasure of it! For the content being given the price is an absolute steal and will provide you with months of Taekwondo footage for your own enjoyment.