SOUTH KOREA.
The South Korean national team has by far been the most dominant team throughout the history of Sport Taekwondo. With countless Olympic, World and Asian champions the Koreans are always at the forefront of major competition. Of late, many people believe that Korea are falling behind and are getting caught up by countries such as Chinese Taipei and Iran, but as the profiles show below, the Koreans have no intetions of slowing down.
Here are some profiles of some of the most experienced Korean players on the World circuit. As their records show the Koreans can still be considered the best team in the World.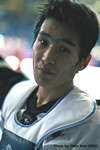 CHOI YEAN HO: MALE FIN
Name: Choi Yeon Ho
KOREA
Grade: 4th Dan
Weight: Fin
Titles:
1998 Junior World Taekwondo Championships GOLD
2001 World Taekwondo Championships GOLD
2003 World Taekwondo Championships GOLD
2004 Asian Taekwondo Championships GOLD

Yeon Ho Choi has not been seen on the Korean National Team for 2 years now and made a dramatic comeback this year by taking gold in the 2003 World Taekwndo Championships. He has a unique style of play and it serves him well as he wins most of his matches confidently and with ease. He won his first major title in 1998 when he won gold at the Junior World Championships by beating Chu Mu Yen in the final. Three years later he won the World title by beating Chu Mu Yen again in the final with a stunning display of Taekwondo by both competitors making the score 7:2 to the Korean. This year however, Yeon Ho Choi's performance was not so spectacular. He barely managed to get through the early rounds by winning by only a point or two. However he easily won his semi final over Azerbaijan but was very fortunate not to lose the gold to the aerial legwork of the UK's Paul Green. Nevertheless Yeon Ho Choi's performance and consistency has definitely earned him the number 1 spot in Fin weight division.